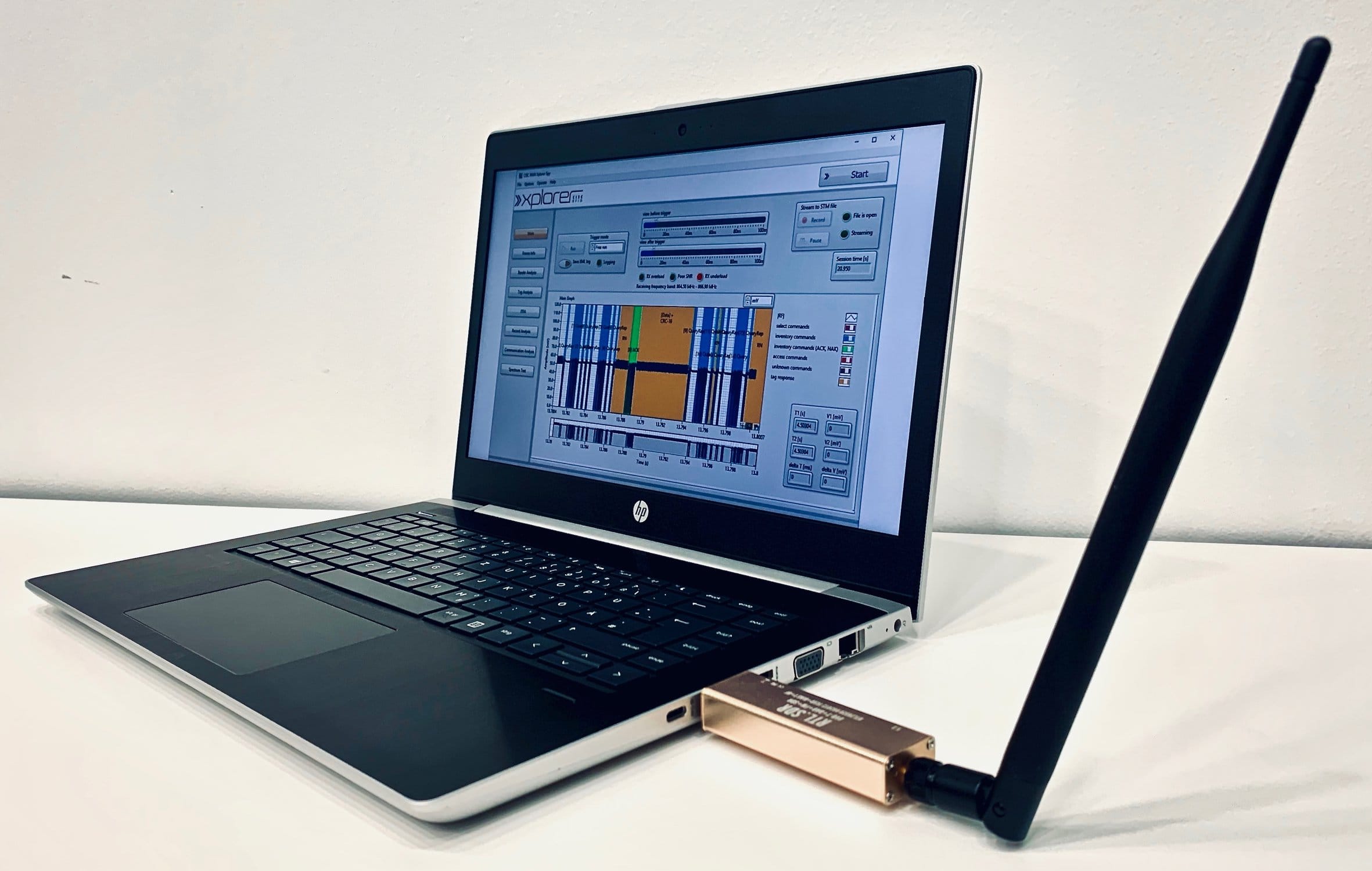 RAIN RFID Software Test Tool
RAIN Xplorer Spy is a versatile software to make general USB RF receivers a comprehensive RAIN air interface spy.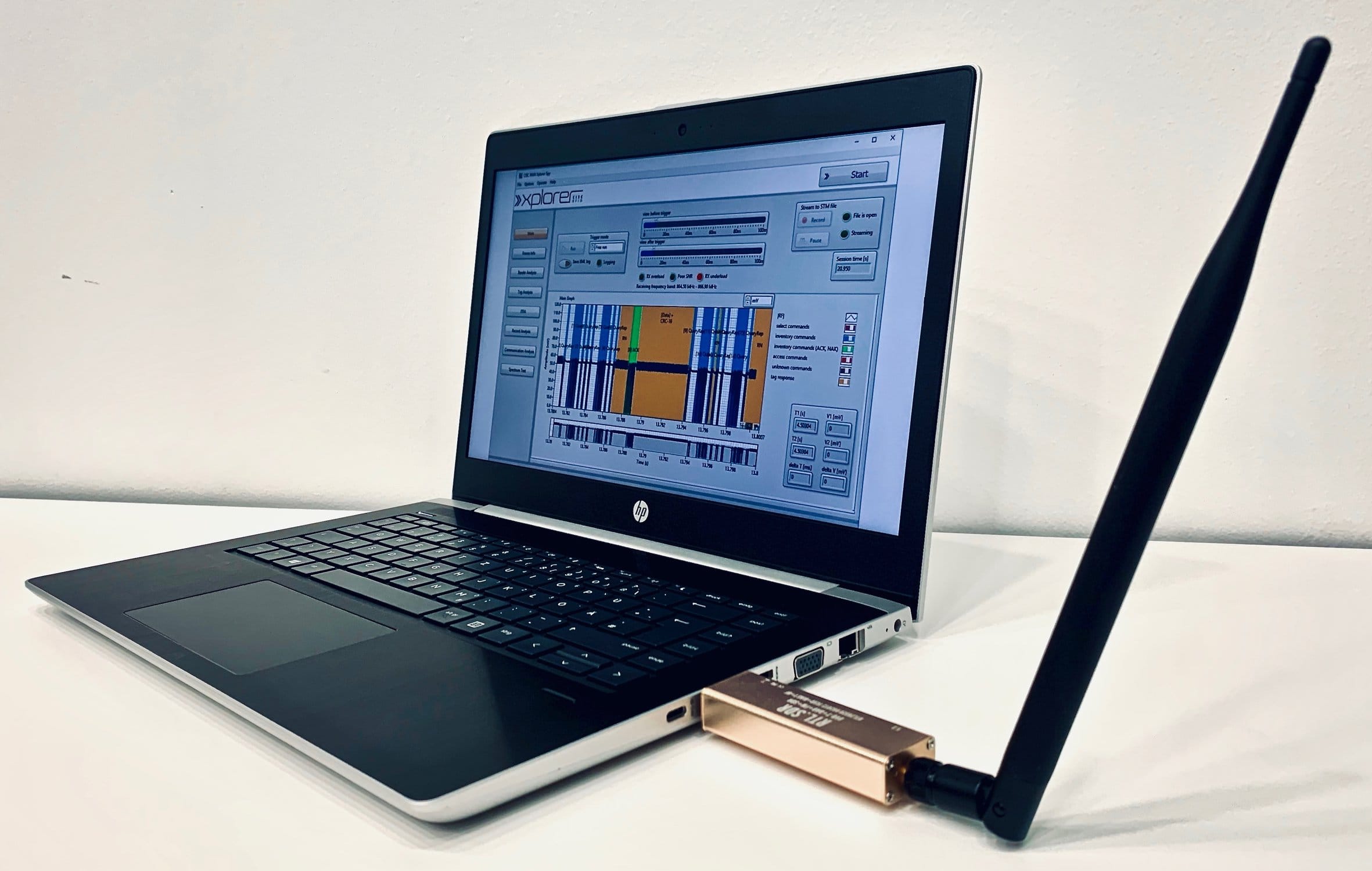 Quickly Evaluate RAIN Communication
CISC is offering the RAIN Xplorer Spy as a versatile tool to quickly evaluate RAIN reader-tag communication. It takes the advantage of using common DVB-T+DAB+FM USB dongles as wide-band USB RF receivers, which allows verifying tag and reader command content and timing. Furthermore, it supports a quick evaluation of the reader software and reports issues that could result in functionality issues or performance degradation of an application.
Analyse and solve reader-tag communication problems
Match reader and tags properly for any environment
Portable and ready to use everywhere at any time (analyze on the "Go")
Record data of reader-tag-behaviours at different sites and environments
Easily exchange recorded files
Flexible licencing subscription options (1 to 12 months)
Software, application and conformance check
Spy functionality for

a quick visualization of reader-tag issues
File-Management to

save recordings

Advanced Communication Analysis

Conformance tester

GS1 EPC Gen2

ISO/IEC 18000-63

RAIN RFID Air interface
The Advanced Communication Analysis and the Conformance Tester verify whether the application settings and protocol use make sense and are as intended by the application developer. A full conformance tester checks whether all communication between reader and tag is according to the RAIN air interface.
The CISC RAIN Xplorer Spy is a portable and very flexible solution for RF communication analysis. That is why the software is purchased online here and the required hardware (please see below) is purchased on your own to be most flexible regarding customs, shipment time and costs.
Required Hardware
The CISC RAIN Xplorer Spy software works with wide-band RTL2832U + Rafael Micro R82xx receivers, which are integrated into common DVB-T+DAB+FM USB / RTL-SDR dongles. The used RTL-SDR software driver turns such dongle into a complex waveform digital receiver without any required hardware modification.
Required is also an antenna for the considered RAIN frequency band, typically from 860 – 960 MHz. Different dongles available for example at Amazon, such as e.g. from RTL-SDR Blog as as well as for the antenna e.g. from Uxcell.
The CISC RAIN Xplorer Spy offers various modules from standard features up to premium options for RF communication analysis. Our modules are available for 1 month, 3 months, and 12 months licenses.
Spying of air interface signal (reader, tag)
Zoom into waveforms, modulation, and data
Triggering on commands or free-run mode
Decoding of commands and responses
Timestamps and interval lengths of the selected command and response
Link and frame timing analysis
Joint time-frequency analysis
All Standard features plus:
Recording of all data as .stm and .xml
Loading of recorded data and full analysis possibilities
Sharing of recorded data
Conformance check of timing, modulation, turn-around time, commands+responses and other signal parameters
Spectrum evaluation of the reader waveform and the tag response, incl. mask analysis in dense- or multiple reader environments
Tag response SNR (signal-to-noise ratio), command – response delay, modulation depth, rise time, fall time, duty cycle and pulse width
All Advanced features plus:
Automated collision arbitration analysis including Q-value development over time with a number of responses, empty slots, collisions, and decoder failures
Fully automated analysis of select command parameters as Target, Action, and Memory Bank
Fully automated analysis including Query, QueryAdjust, and QueryRep parameters as Miller M, Session, Target, and Q
Slot usage statistic
Tag population identification distribution over time
Downloads of RAIN Xplorer Spy